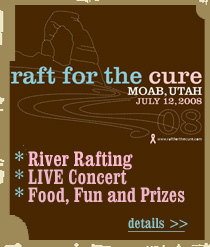 The Moab Adventure Center is hosting the second annual Raft for the Cure in Moab, Utah this year. Right now the date is set for July 12th, and people have already begun signing up to take the trip.

It will be a full day if river rafting, riverside lunch at the red cliffs lodge, and then a BBQ dinner and live concert afterwords. This year the even will headline local artist Peter Breinholt, who will play live music from the Moab stage at the Moab Adventure Center.

Price is $100 for adults, and $85 for youth. The price include everything (rafting, shirts, meals, concert) so you just have to show up and you are good to go.

The event last year was pretty crazy, and it was fun to get so many people on the river at one. Hopefully more people come this year to raise money for the organization. It should be a super blast. The image here is a sneak preview of the 2008 T-shirt that was designed for the event. Pretty cool shirt!